Termite Infestations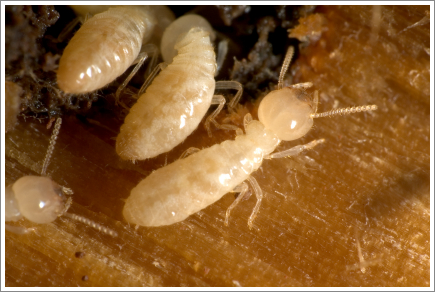 United Pest Control & Termite Services is a certified Termidor representative. Termidor is one of the best chemicals used for extermination purposes, guaranteeing 100% termite elimination in 3 months or less. The system uses ingestion and contact to help rid your home of termites. Termidor is completely undetectable to termites, and can effectively eliminate complete colonies.
Workers
Worker termites are wingless and blind. They help maintain the colony by building and repairing the next and tubes. They are the most prominent type of termite in the colony and most likely can be found in infested wood.
Soldiers
Soldiers are sterile, wingless and blind as well. As the name suggests, their main purpose is to defend
the colony.
Winged Reproductives
Winged Reproductive termites eventually leave the colony when they become adult swarmers. They shed their wings and pair up. Each pair attempts to start a new colony.
Supplementary Reproductives
These mites help increase the population and strength of the colony. They also are replacements for kings and queens should they die.
Ant or Termite?
Similarly to ants, subterranean termites move in single file, but there are differences.
Both species have two pairs of wings, but ant wings may be different sizes; whereas termite wings are always the same size. Ants also have elbowed antennae, which termites do not. Both termites and ants can vary in size and color.
Service Areas:
Addicks, TX

Alief, TX

Angleton, TX

Arcola, TX

Clear Lake City, TX

Cypress, TX

Dickinson, TX

Fresno, TX

Galena Park, TX

Galveston, TX

Hockley, TX

Houston, TX

Huffman, TX

Humble, TX




Kingwood, TX

League City, TX

Mandel, TX

Missouri City, TX

New Territory, TX

Pearland, TX

Richmond, TX




Rosenberg, TX

Spring, TX

Stafford, TX

Sugar Land, TX

Texas City, TX

Webster, TX
Insect Control
See how we can help control your insect problems as well.